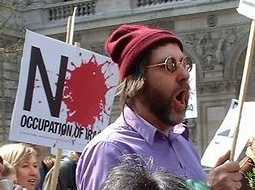 This page is dedicated to my friend and comrade Steve Wheeler, who died of cancer on New Year's Day 2005.
SUE BLACKWELL's Political Links


Since 13th June 2004, this page has had
hits. (Counter courtesy of Digits.com)
To see who has been visiting this page, click on the Nedstat icon:
---
---
Thanks are due to the School Icons Club for some of the graphics on this page.
---
---
Search the Web with Everyclick.com and raise money for Banner Theatre!
---
Sign the petition: don't cut funding to Southall Black Sisters
Disgraceful - Ealing Council is threatening the funding of an independent, secular organisation which supports some of the most vulnerable women in London.
---
Sue's Political Links - in roughly alphabetical order
Activists' Legal Project
Excellent briefings on your legal rights when taking part in protests.
Activist Security
Practical secruity for campaigners and activists regarding the use of phones, letters and the Internet.
Al-Jazeerah
News you won't find on CNN or BBC - the website of the famous Arab TV service.
Anarchist Federation: anarchistfederation@bigfoot.com
Asian Dub Foundation: adf@easynet.co.uk
Archaeologists for Global Justice
Based at Sheffield University.
Agnosticism / Atheism USA-based site on Free Inquiry, Skepticism and Religious Philosophy.
AWAAZ - South Asia Watch
Awaaz is a UK-based secular network of individuals and organisations committed to monitoring and combating religious hatred in South Asia and in the UK.
Some "critical" links!
Linguistics in politics
Noam Chomsky's Web Page (His site at MIT - academic articles etc.)
The Official Noam Chomsky Website (his political stuff is here) On the political uses of cognitive linguistics
Article by Michael Erard on George Lakoff and metaphors.

More from Lakoff - on how Conservatives use language to dominate politics
---
GET ACTIVE! WRITE A LETTER - MAKE A DIFFERENCE
---
Embassies, Consulates and High Commissions
List of London Embassies etc.
Embassy World
An international Embassy site with a searchable database.
Here are some addresses for miscellaneous embassies:
Egyptian Embassy:
Consulate General
Head of Mission: Ambassador Samiha Amin Abu-steit
2 Lowndes Street, LONDON SWI X9ET
City London (Consulate)
Tel +44-(0)207-2359777/2365562/2359719
Fax +44-(0)207-2355684
Israeli Embassy:
Israeli Embassy - London:

Embassy of Israel
2 Palace Green
London
W8 4QB

Tel: 020 - 7957 9500
Fax: 020- 7957 9555
Website: http://www.london.mfa.gov.il


E-mail: public1@london.mfa.gov.il (Mr. Daniel Silverstein)
E-mail: public3@london.mfa.gov.il
General Enquiries & Public Affairs: info-assist@london.mfa.gov.il
Consulate: cons-sec@london.mfa.gov.il
Press Office: press@london.mfa.gov.il
Military Affairs: defense@london.mfa.gov.il
Administration: adm-assist@london.mfa.gov.il


Director of Public Affairs Department: Ronit Ben Dor
Tel: +44-(0)20-7957 9541
Fax: +44-(0)20-7957 9555
E-mail: dpa@london.mfa.gov.il

Prime Ministers Office: pm_eng@pmo.gov.il
Ministry of Defence: pniot@mod.gov.il
Ministry of Foreign Affairs: feedback@mfa.gov.il
Ministry of Justice: YaelK@justice.gov.il
Jordanian Embassy:
6 Upper Philimore Gardens
London
Phone: 44 (0)171 937 3685
Fax: 44 (0)171 937 8795
Jordan Information Service, London: info@jiblondon.org
Russian Embassy:
Mr. Yury Viktorovich Fedotov
His Excellency, Ambassador of the Russian Federation in Great Britain
13 Kensington Palace Gardens,
London W8 4QX.
e-mail: office@rusemblon.org
Click here for a directory of United Nations Embassies
---
The White House
If you e-mail President@WhiteHouse.gov, you get an automated reply saying "Thank you for e-mailing President Bush. Your ideas and comments are very important to him." How gratifying.

You can also submit comments on a specific issue at http://www.whitehouse.gov/webmail. It may not make a damn bit of difference to what the President of the United States does, but hell, you'll feel better for getting it off your chest.
---
The Attorney General
Rumoured to be contactable via LSLO@gtnet.gov.uk.
The Prime Minister
Send Tony Blair an e-mail here
---
The Foreign Secretary

The Rt. Hon. Margaret Beckett
Foreign Secretary
Foreign and Commonwealth Office
King Charles Street
London SW1A 2AH

E-mail addresses for sundry Members of Parliament, mostly local:
Find your MP! Parliament Directory

Another site for finding your MP

This site will find your MP's telephone number.

Fax or e-mail your MP, MEPs or local councillors for free here via the Write to Them site. Recommended!

Look up your MP in the official Register of Members' Interests to find out what shares they own and who pays for their trips abroad!

Early Day Motion web site
Find out what the current motions are and which ones your MP has signed.

The Electoral Commission
- find out about currently registered political parties, boundary changes, how to stand for election and much more.
---
Links to the media, and e-mail addresses for contacting them:
Observer letters
Snail-mail address for Express and Sunday Express:
United Media
Ludgate House
245 Blackfriars Rd
London, SE1 9UX
---
This site is owned and maintained by Sue Blackwell.
It was last updated on 21st June 2008.