| | | |
| --- | --- | --- |
| | BIRMINGHAM UNIVERSITY STOP THE WAR GROUP | |
| | | |
---
This page has had to move because of censorship by the University of Birmingham. Read more about it here.
Since 13th June 2004, this page has had
hits. (Counter courtesy of Digits.com)
To see who has been visiting this page, click on the Nedstat icon:
---
Thanks are due to the School Icons Club for some of the graphics on thess pages.
---
... For might makes right,
And till they've seen the light,
They've got to be protected,
All their rights respected,
Till somebody we like can be elected.
Members of the corps,
All hate the thought of war,
They'd rather kill them off by peaceful means.
Stop calling it aggression,
We hate that expression.
We only want the world to know
That we support the status quo.
They love us ev'rywhere we go,
So when in doubt -
Send the Marines!
Tom Lehrer, 1965
---
Behind Closed Doors: Military influence, commercial pressures and the compromised university
Behind Closed Doors: Military influence, commercial pressures and the compromised university, launched on 12th June 2008 is the result of an in-depth investigation into 16 of Britain's universities, including some of the most prestigious. The Report uses new data obtained through the Freedom of Information Act, and builds upon the material assembled in the two previous studies of military involvement in UK universities. We estimate that the average level of military funding of UK universities is up to five times higher than government figures suggest. The report also reveals the pervasive extent of the military influence in UK universities, which raises significant disquiet among some university staff to whom we spoke about the growing presence of military and commercial influences on campus and their effect on the research agenda. The report highlights how, since 2002, new military research groups have sprung up in universities, supported by publicly-funded research councils, military corporations and the Ministry of Defence. The growth in the number of such groups has been accelerated by the UK 2006 Defence Technology Strategy.

Read the report here
It's on the site of Scientists for Global Responsibility
---
Thanks for the memories ....
A telling little film about the decades-long relationship between the US government, the CIA and Saddam Hussein.
---
We're so sorry, say University
"BIRMINGHAM UNIVERSITY dons apologised to the Muslim students who were elected to the students union but prevented from taking office."

Full story here, on the Black Information Link site.
---
On "glorifying terrorism"
Good article by Iain Macwhirter, 19th Feb 2006
---
UK Anti War Internet Radio Station
Revoradio - Dropping beats not bombs. Listen to it here:
---
Iran and Israel: The Ambiguous Nuclear Weapons
A brilliant, minutely-documented account of how Israel acquired nuclear weapons, on the Palestine Chronicle website. It ends with a petition for a nucelar-free Middle East. Do sign it.

Iran and Israel: The Ambiguous Nuclear Weapons
---
URGENT APPEAL TO SAVE IRAQ'S ACADEMICS
A little known aspect of the tragedy engulfing Iraq is the systematic liquidation of the country's academics. Even according to conservative estimates, over 250 educators have been assassinated, and many hundreds more have disappeared. With thousands fleeing the country in fear for their lives, not only is Iraq undergoing a major brain drain, the secular middle class - which has refused to be co-opted by the US occupation - is being decimated, with far-reaching consequences for the future of Iraq.

Already on July 14, 2004, veteran correspondent Robert Fisk reported from Iraq that: /"University staff suspect that there is a campaign to strip Iraq of its academics, to complete the destruction of Iraq's cultural identity which began when the American army entered Baghdad."

Sign the petition here
There is another version of the petition here
---
Does your university invest in arms companies?
Well here's what it says for Birmingham on the Campaign Against the Arms Trade site:
End Unlawful Imprisonment
A site campaigning against the Terrorism Bill, Guantanamo Bay etc.
Eyes Wide Open
Compelling short anti-war video made by a US peace group:
Iraqi Oil Workers' Union
Check out this new website:
Iraq Body Count - the report
This is "A Dossier of Civilian Casualties in Iraq 2003-2005". You can read a summary and download the entire document HERE.

The dossier represents the results of two and a half year's of very intensive unpaid work by members of the Iraq Body Count project, founded by Hamit Dardagan and John Sloboda. The other authors of the report are Kay Williams and Peter Bagnall. These four, along with a team of over a dozen scrutineers, have devoted several tens of thousands of hours to the painstaking accumulation and analysis of press and media reports detailing civilian deaths in Iraq.
---
"We are all complicit in torture"
Very strong stuff, and not for the squeamish. Robert Fisk at his angriest and best.

We are all complicit in these vile acts of torture - but what can we do about it?
On the Information Clearing House website, reproduced from the Independent.
---
B*U*S*T* THE WAR
Birmingham University Against the War Society is an official Guild-affiliated student society.

Watch this space for future meetings.

B*U*S*T is affiliated to the National Stop the War Coalition, and listed on their website under "Youth and Student Groups - West Midlands."

BUSTW is also affiliated to Justice not Vengeance.
| | |
| --- | --- |
| Click on the mermaid to see the B*U*S*T website: | |
Act Now! Lobby action over Birmingham 14 Students
Fourteen Muslim students from Birmingham University believe they are victims of religious discrimination after their elected to a student body was overturned. Read all about it, and support the campaign, on the BLINK website:
E-Lists
BUSTW has its own e-mail lists to keep members and supporters informed of local campaigns and activities. There are two lists, both maintained by Sue Blackwell:
bustw-list

bustw-list is an information and discussion list. Any member can post items to it. All postings which are consistent with the 3 aims of the Stop the War Coalition are welcome. These aims are to (1) stop the war, (2) fight racism and (3) defend civil liberties (particularly, in our case, academic freedom). Members often post hot-off-the-press news items and suggestions for local activities. The list can be high-volume at times: expect 1-5 messages a day on average.

If you would like to join, simply send the message "subscribe bustw-list" to: majordomo@bham.ac.uk.

bustw-announce

bustw-announce is an announcements-only list. Any member can post items to it but they will be moderated by Sue. Only local announcements relevant to the 3 aims of the STWC (see above) will be accepted, i.e. not news or discussion items or announcements of events outside the Midlands (apart from national demonstrations). The list is consequently suitable for members who want to be kept in touch but don't want a lot of e-mails. Expect 1-6 messages a week on average, though it can be higher if there is a lot happening.

If you would like to join, simply send the message "subscribe bustw-announce" to: majordomo@bham.ac.uk.
Please note: if you are a member of bustw-list you do not need to join bustw-announce as well, since everything posted to bustw-announce will be copied to bustw-list, but not vice-versa.
---
Eviction of Brian Haw imminent
Brian Haw has been protesting against UK and US government policy towards Iraq since 1 June 2001 - right opposite the Houses of Parliament. This has upset Tony and his cronies so much that they are now proposting to change the law in order to evict Brian!
---
Impeach Blair!
There is now a formal move to impeach Tony Blair, on the grounds that he misled Parliament. MPs from the Scottish Nationalists, Plaid Cymru, Liberal Democrats and the Tories have joined the call.

Read more about it on http://impeachblair.org.
---
Protect and Survive Mark II ???
It was only a matter of when, not if. As soon as the Government announced that it was issuing advice to the general public on what to do in a terrorist attack, it was a foregone conclusion that someone would spoof it.

Enjoy this site before HM Government takes it - and perhaps its author - away.
---
The Human Face of Political Dissent
Here is an article written by Brian Doherty and John Sloboda of Keele University, reporting some research and analysis on the state of the anti-war movement, based on surveys of people who attended the big February 15th anti-war demonstrations in 2003.

It is entitled 'The Human Face of Political Dissent: what we know about the anti-war marchers of February 2003".

The paper is written specifically as a resource for activists (including academic activists) and NGOs, rather than with the RAE in mind.  The authors invite activists to reproduce and circulate it wherever they feel it is useful.
---
Sign the Petition to get to the whole truth about Gulf War Syndrome
The Inquiry begins on the 12th July 2004. We are told that most of the sessions will be for 'medical experts'. There are only two sessions planned to hear evidence from Gulf war veterans. How can that be enough to get to the truth?

The Petition is organised by Payday, working with the Global Women's Strike.
---
Factsheet on the bogus "handover"
This Factsheet, by Iraq Occupation Focus, exposes the realities of the continuing occupation. It is two sides of A4, accessibly written and well designed, and can be used in street stalls, workplaces, colleges, etc.

The Factsheet can be downloaded HERE (in Adobe PDF format).
---
American and British torture in Iraq
Absolutely shocking pictures
- of American torture and sexual humiliation, only some of which have appeared in the British press to date. This site also comtains some of the script of a CBS "60 minutes" broadcast in which the pictures were shown.

Uncensored version
These pictures are not for the squeamish, so please only open them if you have a strong stomach. Also please note that this site appears to be a pro-Saddam one which neither Sue nor BUSTW endorses, of course, but that does not detract from the seriousness of what is shown in these images.

International Red Cross Report on the Coalition Forces' treatment of Prisoners
Dated February 2004. In .PDF format.
---
NEW! Eye-witness accounts of Fallujah - on the excellent Understanding the Present Crisis site run by Andrew Chitty, a lecturer in philosophy at Sussex University.
Resolutions passed at the STW Conference on 28th Feb 2004
---
To download the full Hutton report - aka "whitewash", click here.



---

This image was made into placards taken down on the coaches which BUSTW sent to the anti-Bush demo - it got a mention in the Times, no less, as well as Socialist Worker. Well folks, the latest gossip is that Bush liked it so much here last time that he's coming back, probably in January or February 2005 in time to help Blair with his election campaign. So we may be able to use this work of art again!

Guardian report of the demo on Thursday 20th November.

"Boycott Bush" - a list of US goods NOT to buy/
Recent Articles
"This war on terrorism is bogus": Michael Meacher, Saturday September 6, 2003 The Guardian
Michael Meacher, Labour MP & former environment minister summarises evidence that the 9/11 attacks gave the US an ideal pretext to use force to secure its global domination. Strong stuff!
"The Forgotten and the Damned" by Linda Heard.
This is an excellent article about the plight of the Guantanamo Bay detainees, on the "Strike the Root" website.
---
FREE ULLA!
On March 10th, internationally renowned peace campaigner and grandmother, Ulla Roder, broke into RAF Leuchars and disarmed a Tornado jet that was due to leave to attack Iraq. Other Tornadoes from the UK were used to drop cluster bombs and depleted uranium. After taking her peaceful action, she waited to be arrested and is now on remand at HMP Cornton Vale in Stirling.

Ulla, who is a Danish Trident Ploughshares activist, first became famous in 1999 when she was one of three women who disarmed a Trident related floating laboratory at Loch Goil in Scotland, and was later acquitted on the grounds that she acted to prevent a greater crime. More recently Ulla has been at the forefront of the campaign to stop Star Wars, and she established a peace camp outside Fylingdales air base in Yorkshire.

Ulla believes she has a strong moral and legal defence for her action. However, were she to be found guilty of criminal damage to the Tornado, Ulla could be imprisoned. Accordingly, Ulla needs your support NOW.

The newly formed "Free Ulla Campaign" is compiling a list of organisations who agree that:
Ulla does not belong in prison
Killing innocent civilians is illegal
Ulla's action was not
For more information, please see http://www.free-ulla.org
---
What's going on with Waitrose ?
Our favourite supermarket, isn't it? Well it's a bit pricey, but they've got best selection of organic veg, apart from the box delivery. And mm, the bread! They're supposed to be owned by their workers as well, aren't they? Like a co-op? That makes them really cool, right?

Wrong ! Did you know that they're ticket agents for the Fairford RIAT, the huge arms dealers junket deep in the heart of rural Gloucestershire? Do really want to buy your babyfood, your organic parsnips, your birthday cake, your romantic dinner party ingredients, your loo rolls, from an outfit that openly supports the war machine?

WHAT TO DO : Ring them up, write and COMPLAIN and if that doesn't work, go somewhere else. And tell everyone you know to do the same.

A full list of Waitrose supermarkets and their telephone numbers is given here

USAF Fairford was the 'forward deployed' base for 14 B52 bomber planes which dropped cluster bombs, cruise missiles and JDAMS on Iraq in March and April of this year. The RIAT takes place on 15 - 20th July. It is expected to draw 200,000 arms dealers and military aviation experts into sleepy rural Gloucestershire.
---
So, where ARE those Weapons of Mass destruction then??
A couple of relevant articles:
"Rumsfeld's new line on missing arms"By Grant McCool in New York, May 29 2003

Iraq may have destroyed its purported chemical and biological weapons before it was invaded in March, the United States Defence Secretary, Donald Rumsfeld, has said in an effort to explain why none has been found.

"Newspaper reporters in row over Chalabi" By Howard Kurtz (Sydney Morning Herald, May 28 2003)

An internal email by Judith Miller, the New York Times's reporter on bio-terrorism, acknowledges that her main source for such articles has been Ahmad Chalabi, an exile leader who is close to senior Pentagon officials.

"Evidence and deceit: how the case for war became unstuck" by Glen Rangwala
(Part published as "The lies that led us into war" in The Independent, 1 June 2003.)

For a bit of fun, go to www.google.com, type in "Weapons of Mass Destruction" as your search term and hit the "I'm feeling lucky" key.
---
Guild of students Censors BUSTW leaflet!
"Mandela Leaflet is banned" -Read the article in the Times Higher, 16th May 2003.
---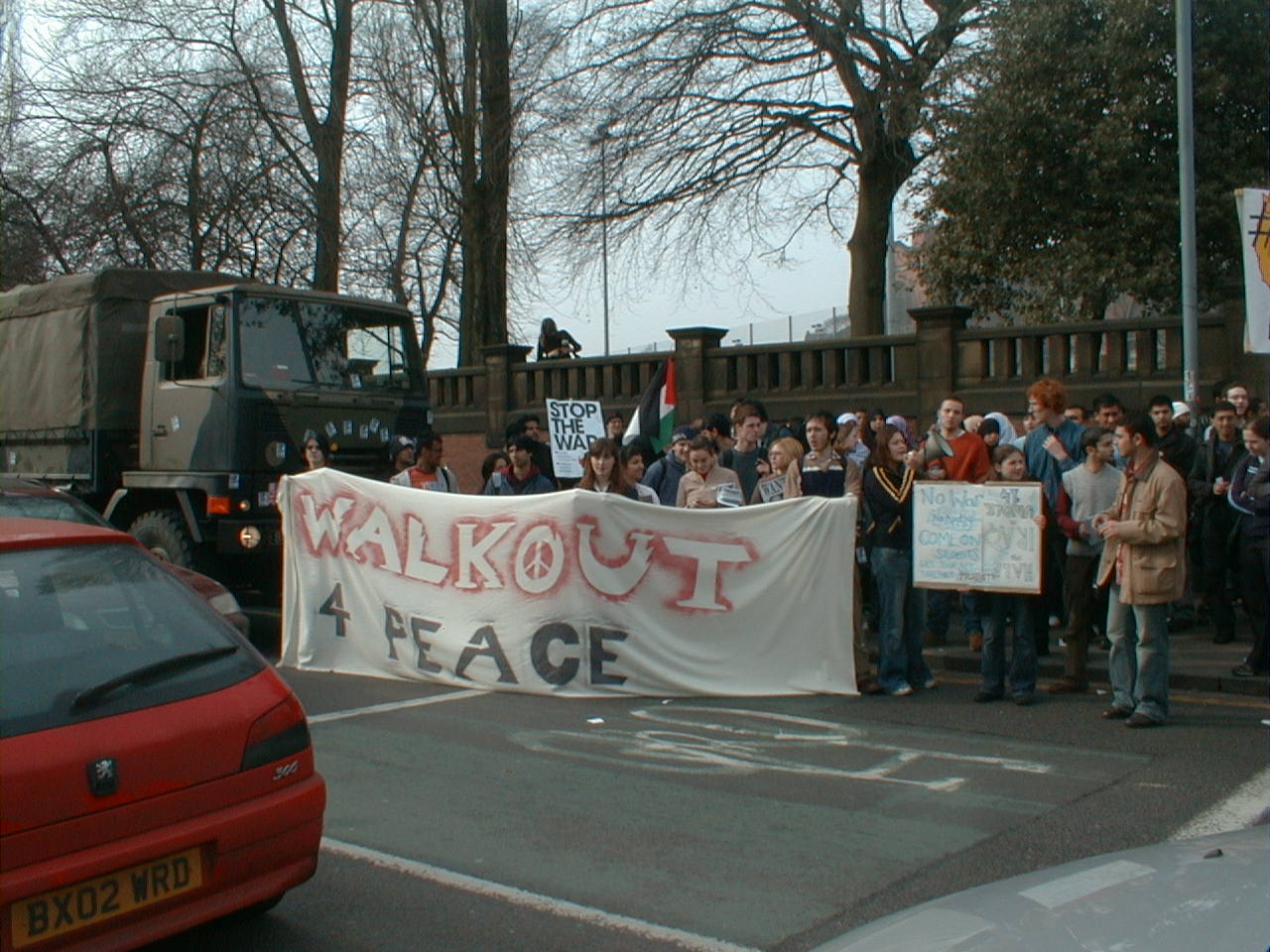 Day X: members of BUSTW hold up an Army truck on the Bristol Road!
---
Urgent petition of international scholars of Mesopotamia and the Near East
- to the United Nations and UNESCO for the safeguarding of Iraqi cultural heritage. Well, better late than never .....
---
Collateral Damage??
This site is keeping a running total of civilian casualties to counteract the lies from politicians:

See also The "Shock and Awe" Photo Gallery.
---
Women In Black vigil every Saturday at 12 noon, Victoria Square
---
People's Assembly for Peace Wednesday 12th March
Read the report on the BBC website
---
Latest anti-war Activities in UK Universities
---
Rotterdam Demo Calls for Workers Boycott of Weapons Transport


A moving account of how some Dutch socialists commemorated the anniversary of the 1941 February Strike against the Nazis with a call for united workers' action to stop weapons transports through the Netherlands. Includes an account of the original 1941 "februaristaking".
---
Picasso's "Face of Peace" re-created on the Santa Monica Beach on 16th Feb.
---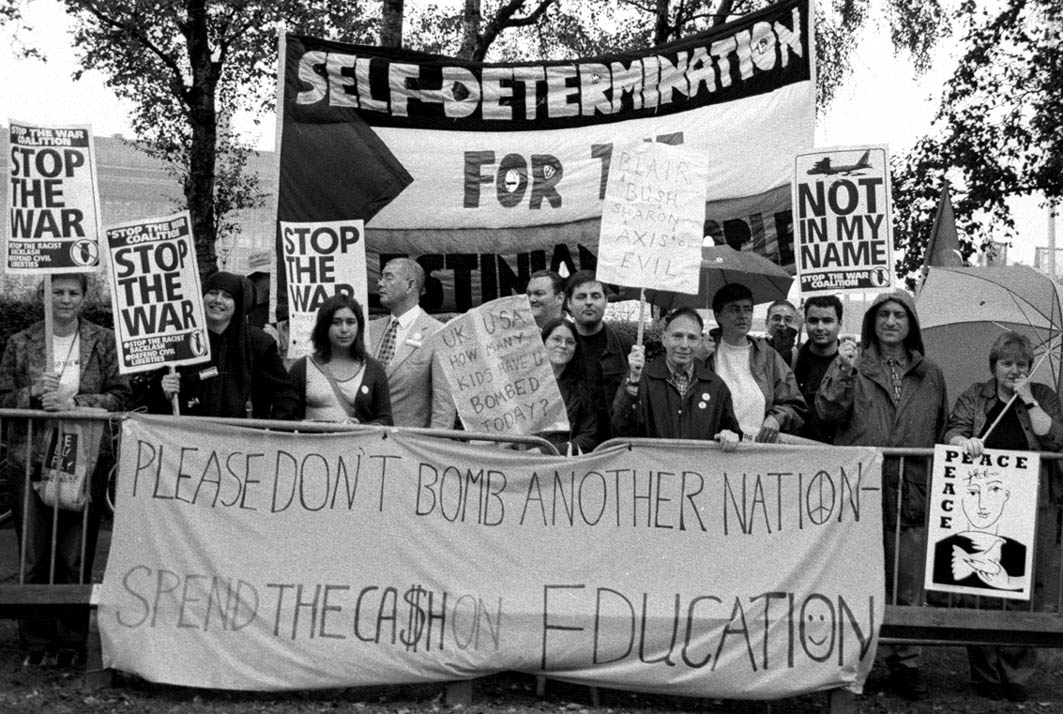 BUSTW members Protest at Jack Straw's visit - Friday 6th September 2002
Photo by Stalingrad O'Neill
---
Reports of Previous Protests, with Picture Gallery!
---
Disinvestment Campaign
Academics - your pension fund is being invested in the Arms Trade. Take a look at the top 100 investments of the Universities' Superannuation Scheme.

The USS Home Page also gives a statement about its policies for "socially responsible and sustainable development". Hmmm.....
---
Relevant Links and Contacts:
Stop the War Coalition:
National website of STWC
Phone:0207-053-2155 or 0795-123-5915
e-mail office@stopwar.org.uk
Miscellaneous anti-War Links, in approximately alphabetical order:
---
ALTERNATIVE MEDIA SITES
---
IFOR Resources
IFOR is the International Fellowship of Reconciliation. The following resources on War and Peace in Iraq were compiled by the IFOR Secretariat in October 2002. Descriptions and comments on the sites are by IFOR: sorry, I haven't had time to check them all personally! - SAB.
---
This site is maintained by Sue Blackwell.
It was last updated on 23rd June 2008